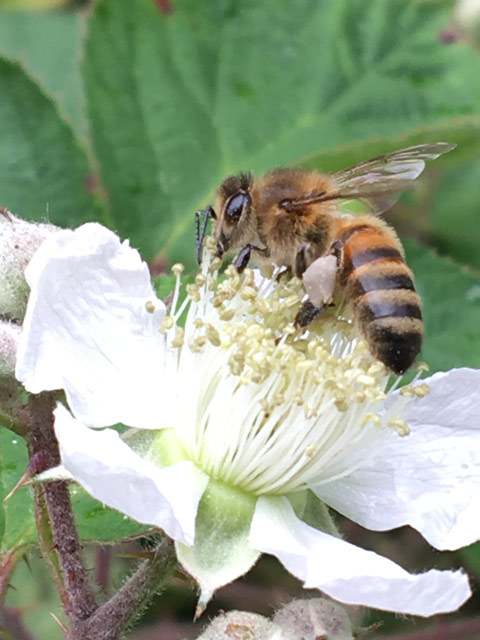 We're now approaching our final lecture of the season so we'd like to thank everyone for attending. When the pandemic forced us to move to virtual lectures we never expected to see so many new people in attendance. We hope you enjoyed our selection of lectures and learnt something new to help you keep your happiest and healthiest bees yet over the coming season.
It would be really helpful for us if you could complete our end of season survey and help us decide what topics and format our lectures take when they come around later in the year, you can do so using the link below.
Many thanks again from all the team at Stafford Bee Group, we look forward to welcoming everyone back for more lectures later in the year.
---
Stafford Bee Group offers you a programme of lectures on beekeeping as well as other related subjects.
Due to the COVID restrictions we are providing virtual lectures using Zoom. You can register to watch each event using the links on our Events page, on emails via our mailing list or on our Facebook page.
We have a community Facebook page where members share their beekeeping experiences, photographs, and questions and receive prompts and suggestions with our regular A to Bee Advice to Beekeepers.
You can join at facebook.com/group/staffordbeegroup
If you have any queries please email contact@staffordbeegroup.org or use the form on our Contact Us page.
---
Our response to the COVID-19 outbreak
As the restrictions continue with respect to the COVID-19 outbreak, all lectures in the 2020/21 winter picture programme will be delivered virtually. We will hopefully return to delivering the lectures in a public venue in October 2021. We appreciate that not everyone will wish to return to a mixed public venue, so we may run virtual and face to face sessions at the same time, for those that attend health and safety will be of paramount importance to us. We are currently looking for an alternative venue as our lectures will only run with as many attendees as can be accommodated while maintaining social distancing guidelines. When we meet, we will provide hand sanitiser to use at the events and we advise that you wear a face covering. Our safety measures will be under constant review and amended as appropriate.
---
Copyright © 2020 Stafford Bee Group | contact@staffordbeegroup.org